Recently, Mingsheng Securities published a research report named Six Core Questions & Answers to Metaverse, Will it Really Be the NextG Internet, which pointed out that the core meaning of Metaverse is the NextG Internet. It also concluded that metaverse will redefine the Internet with its super immersive experience, open creation system, three-dimensional social network scheme, decentralized economic system, and various forms of civilization. Soul App, being a popular social platform among Gen Z, aims to build a Soul Metaverse for the young generation, which is in line with Metaverse Phase One from the report. At present, it has already built a virtual playground where young people can fully express themselves, feel free to socialize, embrace happiness and cultivate a sense of belonging to metaverse.
According to the report, the Metaverse will go through three key phases. In Phase One (2021-2030), the immersive experiences take shape in Metaverse with basic entertainment and social functions that can be realized in virtual worlds. All players in metaverse can find where they belong to. In Phase Two(2030-2050), the border between virtual and reality will gradually fade, and more elements of the real world are connected to the virtual network. Metaverse will become an important part of our social life. In Phase Three (after 2050), Metaverse will develop into the ultimate form of "Complete Reality Internet"(Quan Zhen Internet) where virtual and reality are inseparable. It will eventually give birth to a new civilization. 
The report also shows that Metaverse is now in Phase One, focusing on social platforms, games, content and other entertainment areas. During this period, social networks will evolve from the 2.0 era to the three-dimensional, immersive 3.0 era based on the iteration of technology and product design logic.
The era of social network 1.0 is an era where social interaction separates from content when content is mainly in the form of forum + IM. In the era of social network 2.0, content integrates into social interaction. Facebook and Renren are typical products of this era, where users can share content on their home page, attracting followers to make interactions. In the era of social network 3.0, the social network scheme presents three-dimensional and immersive characteristics. Every user has his or her own physical image in the virtual realm and can enjoy more entertainment, leisure, office and game scenes than the real world, embracing new authentic social relationships in a virtual world parallel to the real world.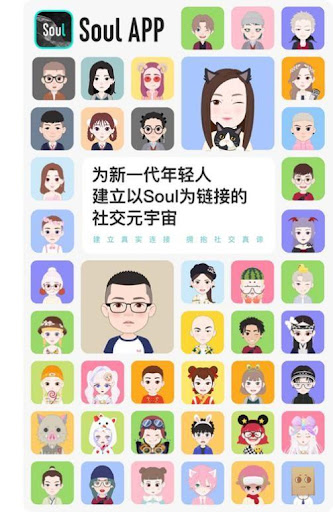 As a popular social platform app, Soul targets to build a 'Soul'cial Metaverse for young generations, being ahead of the industry and the first to explore the leap from social network 2.0 to 3.0. With unique gamified features, it creates a three-dimensional, diversified and highly immersive social playground for users. On Soul, every user has a virtual ID and can create his/her personalized avatar. Based on social profiles and interest graphs, Soul uses AI algorithms to recommend highly-matched users to each other, helping them form high-quality interactions. Besides, Soul has launched abundant activities, such as Soul Werewolves and group chat parties, to enrich users' social scenes.
As a result, every user can establish new social relationships in 'Soul'cial metaverse. Such a social relationship is no longer limited to the physical location or superficial, nor is it the mapping of offline social relationship. It is a higher-dimensional social relationship that will help users to eliminate loneliness and embrace happiness.
'Soul'cial metaverse is built on the basis of the real world, while it also parallels the real world. It provides immersive virtual experiences for users to entertain, socialize, learn, and so on. In the future, Soul will continue to adhere to technology and function innovation, committing to create a warm, safe and comfortable 'Soul'cial metaverse for young generations.